Disabled Sailors Association receives £6,800 from VINCI UK Foundation towards specially designed dinghy
The donation will help the Portsmouth-based charity improve safety for disabled sailors, while employees from VINCI Energies brand Actemium will offer practical support with outings and maintenance.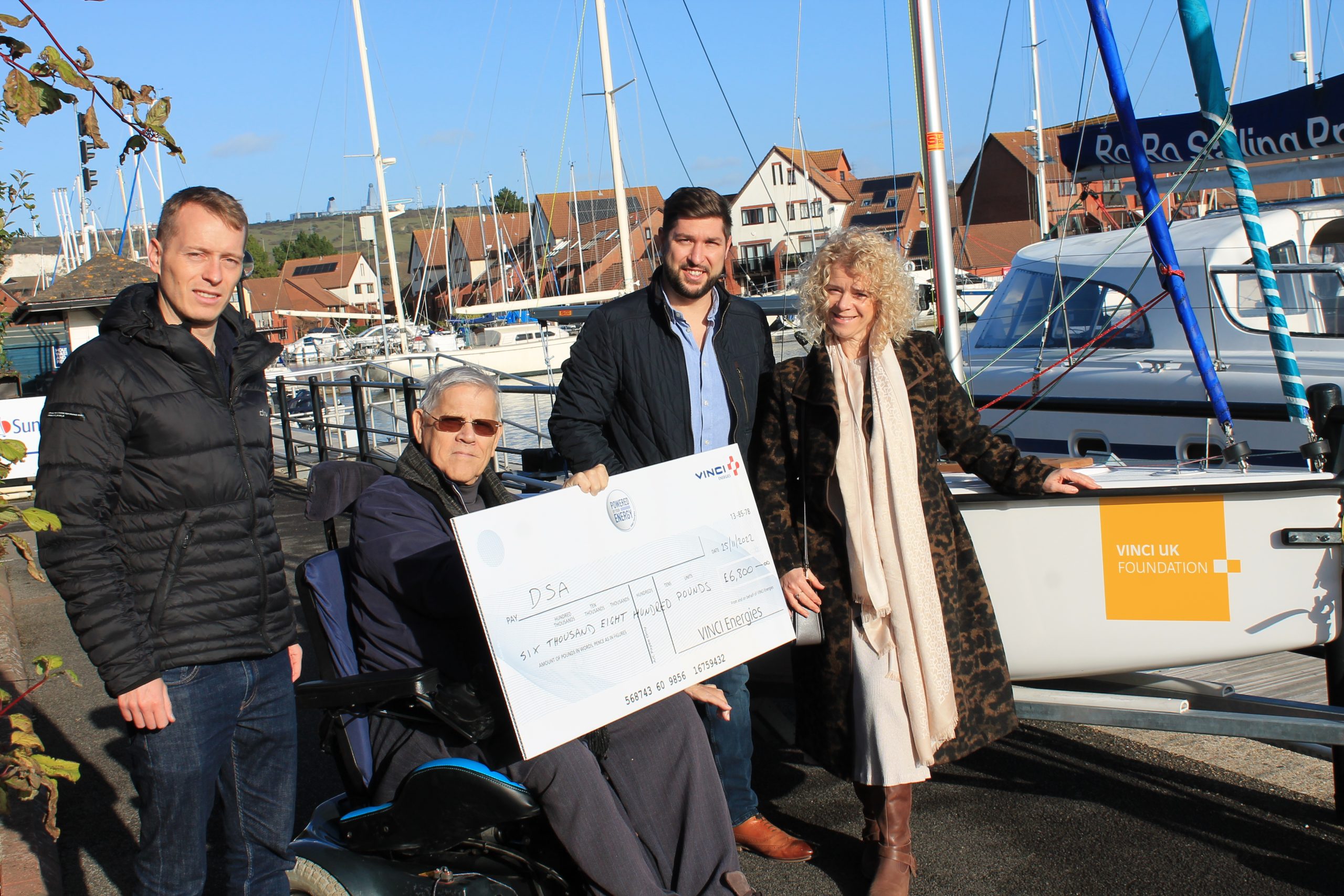 Disabled Sailors Association receives £6,800 from VINCI UK Foundation towards specially designed dinghy
As part of its mission to improve social inclusion for society's most disadvantaged, the VINCI UK Foundation awarded Portsmouth-based charity Disabled Sailors Association (DSA) £6,800 towards building a purpose-designed dinghy to provide those with disabilities the opportunity to sail.
For 30 years, DSA has been boosting the confidence and wellbeing of people with highly complex needs, including wheelchair users, by providing them with opportunities to sail in an adapted yacht, catamaran, and fleet of dinghies and wetas.
To enhance safety for its sailors, DSA involved a group of people aged 8 to 92 years and representing 36 different types of disability in a project to develop a revolutionary new design of dinghy with a foam-filled keel that prevents it from sinking or capsizing.
"While the cost of building the new dinghies is significant, the boats deliver excellent value as each will be sailed by 1,500 people during its 10-year life. And most importantly, they bring about genuinely life-changing experiences for people," explained DSA founder, Mike Wood. "So, we are very grateful for the support from the VINCI UK Foundation in helping to achieve this goal.
In addition to the financial contribution, Mateusz Jozko and Matt Barkwith from VINCI Energies brand Actemium will provide practical assistance to DSA over the next 12 months. As engineers, both Mateusz and Matt are well placed to provide maintenance assistance and as an accomplished sailor, Mateusz is excited to become involved with outings, helping people to manoeuvre on, off, and around the boats.
"It's an incredible feeling to be out on the water — the sense of freedom you get is indescribable," Mateusz said. "So, it's an honour to support the DSA in bringing the joy of sailing to people of all abilities."
"Access to sport and leisure is a vital part of everyone's wellbeing and feeling connected to others as part of a community," Matt added. "I too am proud to be involved and to have this opportunity to make a positive impact on the lives of people in my community using the skills I have."
The VINCI UK Foundation was founded in 2016 to tackle social exclusion and strengthen the communities around its businesses. Since its inception, it has helped over 200 charities and community projects by providing almost £1.4 million in grants and practical support, improving access to training, employment, housing, healthcare, mobility, and leisure activities for society's most disadvantaged.
Find out more about The Disabled Sailors Association.
News